Said Mosker -
سعيد مسكر
Biography of Said Mosker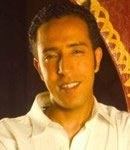 Said Mosker, Moroccan singer and composer.
Said Mosker's musical style is an original mix of Raï, Rock, Latino styles and Moroccan Chaabi. Said Mosker broke through with a single "Jamais Jamais" which revealed his unique style and built him a quite big fan base in Morocco and among immigrants in European countries.
Said Mosker latest work is a nine-tracked album, "Dima Kayn".
Said Mosker performed alongside notorious modern artists such as Hamid Bouchnak, Malek and an emerging female young singer Nabyla Maan. He also gave shows across Europe and beyond.
Place a link to the page of Said Mosker on your website or blog
Post to your blog
Permanent link
BB CODE
Official Website of Said Mosker, photo of Said Mosker, song de Said Mosker, album of Said Mosker 2023, music video of Said Mosker , word of Said Mosker , listen Said Mosker mp3