Saida Fikri -
سعيدة فكري
Biography of Saida Fikri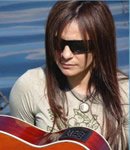 Saida Fikri, moroccan singer, song-writer, composer and performer.
Saida Fikri started singing at the age of 8. Determined to bring a new wave moroccan music, she waited for a long time to release her first cassette in 1994 in Belgium.
During a 14-years career and throughout 8 albums, Saida Fikri devoted her music to give voice to a whole society's feelings and pains, preaching love and peace and rejecting all kinds of discrimination.
Saida Fikri is now living in USA. She last released two albums : « One World », « Essilm ».
Place a link to the page of Saida Fikri on your website or blog
Post to your blog
Permanent link
BB CODE
Official Website of Saida Fikri, photo of Saida Fikri, song de Saida Fikri, album of Saida Fikri 2023, music video of Saida Fikri , word of Saida Fikri , listen Saida Fikri mp3