Samira Said -
سميرة سعيد
Biography of Samira Said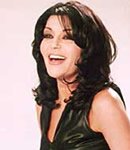 Samira Said, moroccan born, Cairo-based singer, was born Samira Bensaïd on January 10, 1960 in Rabat (Morocco).
Samira Said began singing at the age of nine. From competition to competition, Samira Said never lost; she was every time more promising. She started singing as a professional soon after she won the most popular competition of the time "Mawahib".
In order to make her name extend across Arab scene, Samira Said moved to Egypt where she seduced many producers who adopted her soon.
Samira Said first sang only Morocco's. Her first song was "Bitaqat Hob" but it was the early 1980s which brought her great opportunities. After she has sung "Al Hob Eli Ana Aichah" composed by Mohamad Sultan, renowned composers as Baligh Hamdi and Mohamad Al-Mouji took her on. Thus, she broke through with hit songs: "Alemnah El Hob"(1983), "Al Gani Ba3di Youmine" and "Mosh Hatnazel Annak Abadan"(1986). Since, Samira Said earned great fame in Egyptian scene.
All Samira's subsequent albums were critically acclaimed. Throughout a discography made of 33 albums, Samira Said has adopted new stylistic influences and thus achieved a surprising longevity in the Arabic world. Her latest album, "Aweeni Beek" was sold more than 25,600,000 copies.
Samira Said has one child, Chadi.
Place a link to the page of Samira Said on your website or blog
Post to your blog
Permanent link
BB CODE
Official Website of Samira Said, photo of Samira Said, song de Samira Said, album of Samira Said 2023, music video of Samira Said , word of Samira Said , listen Samira Said mp3