Shabka -
شابكة
Biography of Shabka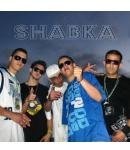 Shabka is a Moroccan Hip Hop band which was founded in 2000by five young Moroccans from Fez, Otmane, Mehdi, Abdelmjid, Simo and Kamal.
Shabka's debut was as difficult for the group as for all Hip Hop Moroccan bands which lacked studios, musical instruments and producers.
Later, Shabka was ready to record its first demo. Adopting lyrics inspired from the daily of streets and Moroccan young people. "Le Cri" was released in 2003 with a XL production followed by a maxi "B.A.F" (La Bande A Fez) in 2004 and a second maxi "The Shabka Show".
Shabka Show is the winner of the Second Prize of the Boulevard Des Jeunes Musiciens 2006 in the category Hip-Hop.
Place a link to the page of Shabka on your website or blog
Post to your blog
Permanent link
BB CODE
Official Website of Shabka, photo of Shabka, song de Shabka, album of Shabka 2020, music video of Shabka , word of Shabka , listen Shabka mp3