Sofia Marikh -
صوفيا المريخ
Biography of Sofia Marikh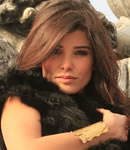 Sofia Marikh is a Moroccan female singer and musician born October 15, 1982 in Casablanca, Morocco.
Sofia Marikh grew up in Marrakech after her parents got divorced. Sofia started singing at family parties and gatherings. Later, Sofia Marikh appeared on several Moroccan and French commercials and then in the French film "Soleil" alongside legendary Sophia Lauren and a Moroccan movie "Wa Baad" starring Rasheed al Wali. One year later, Sofia had her first contract with a French-speaking Moroccan singer about a collaborative album - a deal which never took effect.
In 2003, Sofia Marikh participated to the Arabic version of Star Academy aired on Lebanese TV station LBC. Sophia never pained to get huge votes from both the audience and the jury thanks to her sweet voice and joyfulness. At the end of the most popular talent show in the Middle East, Sofia went in tour to Tunis, Kuwait, Egypt, Dubai, Jordan and Lebanon for a series of sold out concerts.
Sofia Marikh's first album is "Kelmet Hob" released in 2007. The album head song was shot in the same year and followed by a music video of "Bahib Fik". Another hit song from the album was "Bzzaf Bzzaf".
Place a link to the page of Sofia Marikh on your website or blog
Post to your blog
Permanent link
BB CODE
Official Website of Sofia Marikh, photo of Sofia Marikh, song de Sofia Marikh, album of Sofia Marikh 2023, music video of Sofia Marikh , word of Sofia Marikh , listen Sofia Marikh mp3