Steph Ragga Man
Biography of Steph Ragga Man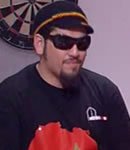 Steph Ragga Man is a Moroccan Hip Hop group.
After having performed in many crews HM Clan, Hu Connection and Technique Black, it was Mafia C which signed on Casawis Clic Records label and adopted the pseudo of Steph Ragga Man.
Steph Ragga Man inspirations are Papa San, General Degree, Cutty Ranks but also Sean Paul, Lord Kossity, Elepahtn-Man. Steph Ragga Man Hip Hop references are IAM, NTM WU-TANG CLAN, MOBB DEEP and Gnawa Diffusion, Idir, Manu Chao.
Steph Ragga Man's first album is about such important themes as women, Africa, the good and the evil, poverty and wealth, the Maroc- attitude, Nayda vibration.
Steph Ragga Man's most popular work is his breakthrough single "Mama Africa".
STEPH RAGGA MAN is unique phenomenon in Morocco.
Place a link to the page of Steph Ragga Man on your website or blog
Post to your blog
Permanent link
BB CODE
Official Website of Steph Ragga Man, photo of Steph Ragga Man, song de Steph Ragga Man, album of Steph Ragga Man 2023, music video of Steph Ragga Man , word of Steph Ragga Man , listen Steph Ragga Man mp3