Style Souss
Biography of Style Souss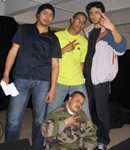 Style Souss is a Moroccan Hip Hop band formed in Agadir in 2004.
Style Souss lines-up Aziz Akouz, Fat Man Joe , Brahmi Becherign, Abdellahidi, Amine Minka, Mc- Majnoun, Driss Sbiaâ and Driss David.
Impressed by Moroccan Amazighs story, The Gadiri young people devoted themselves to express the greatness of such story through a musical style full of the richness of Amazigh culture and lyrics bearing all complaints and 'mystic' dreams of Berbers in Morocco.
Style Souss's latest album was "Hayard Nouchkad", a sixteen-tracked album in which Amazigh, Arabic and French languages are joined to draw the reality of Amazigh people and impose a warm cultural debate. Style Souss artists involved themselves in an extraordinary adventure trying to redefine Moroccan society's norms through an artistic phenomenon dedicated to many generations.
Place a link to the page of Style Souss on your website or blog
Post to your blog
Permanent link
BB CODE
Official Website of Style Souss, photo of Style Souss, song de Style Souss, album of Style Souss 2020, music video of Style Souss , word of Style Souss , listen Style Souss mp3