Younes Askouri -
يونس عسكوري
Biography of Younes Askouri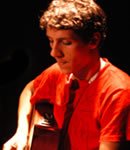 Younes Askouri is a Moroccan singer, songwriter and composer born in Hay Mohammedi of Casablanca, Morocco in 1982.
Younes Askouri's first appearence to public was in the most important Moroccan Talent show for young musicians « Boulevard des Jeunes Musicians » in 2001. Winner of the first prize, he soon released a first album and responded to the invitation of many festivals in Morocco and brought his art to Tunisian scene.
Youness's style is a genius mix of Oriental, African and Occidental rhythms and styles.
Place a link to the page of Younes Askouri on your website or blog
Post to your blog
Permanent link
BB CODE
Official Website of Younes Askouri, photo of Younes Askouri, song de Younes Askouri, album of Younes Askouri 2023, music video of Younes Askouri , word of Younes Askouri , listen Younes Askouri mp3