Zaki Abdallah -
زكى عبد الله
Biography of Zaki Abdallah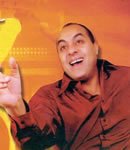 Zaki Abdallah is a Moroccan singer. He is as popular in Morocco as in Europe.
Zaki Abdallah is a Chaâbi music performer. His style is reputed to be pure and intelligent for he often works with young songwriters and composers.
His experience with oriental song gave him new tools such as the use of « Khanate » most known in oriental styles.
Place a link to the page of Zaki Abdallah on your website or blog
Post to your blog
Permanent link
BB CODE
Official Website of Zaki Abdallah, photo of Zaki Abdallah, song de Zaki Abdallah, album of Zaki Abdallah 2023, music video of Zaki Abdallah , word of Zaki Abdallah , listen Zaki Abdallah mp3