Zina Daoudia -
زينة الداودية
Biography of Zina Daoudia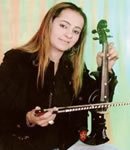 Zina Daoudia, Moroccan Chaabi female performer, was born in Casablanca, Morocco.
Zina Daoudia, known also as Daoudia, is a young and a modern interpret of a traditional Chaabi which used to be performed by female singers called Chikhat. Often dressed in a blue-jean outfit with a Moroccan classical violon on her thigh, Zina Daoudia is the pioneer of what critics name a modern Cheikha.
Zina Daoudia first tried Raï style and later switched to Chaabi. Glad to have made such step, Zina Daoudia was sure of her choice.
Zina Daoudia is now one of the most popular and beloved Chaabi singers. Her fame took her across many countries to give shows for Moroccan immigrants who acclaimed her as much.
Place a link to the page of Zina Daoudia on your website or blog
Post to your blog
Permanent link
BB CODE
Official Website of Zina Daoudia, photo of Zina Daoudia, song de Zina Daoudia, album of Zina Daoudia 2022, music video of Zina Daoudia , word of Zina Daoudia , listen Zina Daoudia mp3