Sami Yusuf -
سامي يوسف
Biography of Sami Yusuf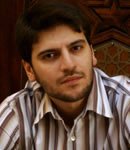 Sami Yusuf, British composer, singer and musician, was born in July 1980 of to a family of Azeri origin.
Sami Yusuf early learnt to play musical instruments which contact of music made him discover his singing talent and pushed him enter several institutions of music. He also learnt Middle Eastern modes (or Maqams).
A little time later, Sami has already composed songs and gave his voice to. His first album was sold over a million copies all over Muslim world. "Al Muallim" had the particularity to be a bilingual album. His second album "My Ummah" exceeded sales of three million copies worldwide.
With his Islam-themed songs preaching for love, peace and tolerance, Sami Yusuf imposed himself as the pioneer of a new kind of songs which will be much more approached later on.
To date, Sami Yusuf gave several shows in over 30 countries and has made a huge fan base across the world. His concert in Turkey is his biggest ever with an audience of over 200,000.
Comments on Sami Yusuf
Place a link to the page of Sami Yusuf on your website or blog
Post to your blog
Permanent link
BB CODE
Official Website of Sami Yusuf, photo of Sami Yusuf, song de Sami Yusuf, album of Sami Yusuf 2023, music video of Sami Yusuf , word of Sami Yusuf , listen Sami Yusuf mp3