Abou Bakr Salim -
أبوبكر سالم
Biography of Abou Bakr Salim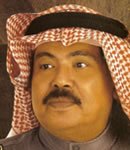 Abou Bakr Salim is a Saudi singer. He is original from Hadramout, Yemen. He was born in 1939 in Trym in Hadramout.He belongs to the family Belfaqih.
Young, he left Trym to Adan where he met several poets, singers, musicians and media figures like the poet Lutfi Jafar Aman and artist Ahmed bin Ahmed Qasim and Mohammad Saad Abdullah and Mohammed Morshed Naji...
Therefore most famous for his songs to perform the right color, especially Hadrami, has achieved great success at the beginning of its tour, and continues with its audience annually through concerts, song festivals in the Arab.
Abou Bak Salim started singing through concerts and Adan Radio and Television. One of the first of his songs was entitled ' Ya Ward Ma7la Jamalak'.
In 1967 Abou Bakr Salim left Aden to Jeddah and participated in the birth of what later became the song of Gulf ' Khaleji songs' with the other pioneers such as Shadi Gulf, Tariq Abdul-Hakim, Talal Maddah and others.
Place a link to the page of Abou Bakr Salim on your website or blog
Post to your blog
Permanent link
BB CODE
Official Website of Abou Bakr Salim, photo of Abou Bakr Salim, song de Abou Bakr Salim, album of Abou Bakr Salim 2023, music video of Abou Bakr Salim , word of Abou Bakr Salim , listen Abou Bakr Salim mp3