Mohamed Abdou -
محمد عبده
Biography of Mohamed Abdou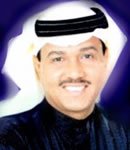 Mohamed Abdou, born Mohammed Abdou Othman Al A'aseere on June 12, 1949 is an Arab singer and composer from Saudi Arabia.
Star of Khaliji music style, Mohamed Abdou has been described as a "Saudi music icon".
Mohamed Abdou biggest hits include "Modhila", "Lila", a duet with Assala "3ala el Baal" and the latest "El Amakine" which hit the market in 2006.
Place a link to the page of Mohamed Abdou on your website or blog
Post to your blog
Permanent link
BB CODE
Official Website of Mohamed Abdou, photo of Mohamed Abdou, song de Mohamed Abdou, album of Mohamed Abdou 2022, music video of Mohamed Abdou , word of Mohamed Abdou , listen Mohamed Abdou mp3