Rashed Al Majid -
راشد الماجد
Biography of Rashed Al Majid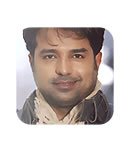 Rashed Abdul-Rahman Al Majed is a Saudi singer, musician and record producer. He was born in July 19th, 1970 in Manama, Bahraini mother and a father Saudien.
Rashed El Majed is one of the most popular singer in the Saudia Arabia with Mohammed Abdu, Rabeh Sager and Abdulmajeed Abdallah.
'Mashkalni' was the single that boosted Rashed EL Majed to his fame.
He's active many albums, 'Meshkalni', 'A'ala Meen Tila'bha', ' Ya Rashed', 'El Barha'...
The Latest album of Rashed Al Majed was titled 'Sa'at' ( Hours) in 2007 and contains 12 tracks.
Comments on Rashed Al Majid
Place a link to the page of Rashed Al Majid on your website or blog
Post to your blog
Permanent link
BB CODE
Official Website of Rashed Al Majid, photo of Rashed Al Majid, song de Rashed Al Majid, album of Rashed Al Majid 2023, music video of Rashed Al Majid , word of Rashed Al Majid , listen Rashed Al Majid mp3