Abeer Fadda -
عبير فدى
Biography of Abeer Fadda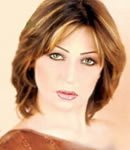 Abeer Fadda or Abeer Jalal Fadda is a Syrian singer, she was born in 1971 in the city of Latakia. Her uncle is the famous actor Asaad Fadda. She started singing professionally at the age of 8.
Abeer Fadda participated in many festivals, singing in Syria and the Arab world, and was awarded the gold medal in 'Alaurnina Syrian Song Festival'.
Abir Fadda was married with an Egyptian art producer, and gave birth to her son Tariq. They were separated by divorce after five years.
Throughout her career, Abeer Fadda, released many albums among them is cited 'Kalamak', 'Law Trid', ' Shokran', ' Faris A7lami', ' 7obak sa9ani lwil', '' Leil Ya Gharam'.
Place a link to the page of Abeer Fadda on your website or blog
Post to your blog
Permanent link
BB CODE
Official Website of Abeer Fadda, photo of Abeer Fadda, song de Abeer Fadda, album of Abeer Fadda 2021, music video of Abeer Fadda , word of Abeer Fadda , listen Abeer Fadda mp3