Asmahan -
أسمهان
Biography of Asmahan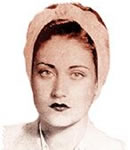 Amal El Atrach better known by her stage name Asmahan is a Syrian singer and actress born in 1918. She was the sister of the famous singer Farid El-Atrash.
She was born on a boat taking her father Prince Fahd El Atrash a member of the famous Druze family of Al-Atrash, who was the governor of the district of Demicri in Turkey, her pregnant wife and her two brothers from Izmir to Beirut.
At the age of 6 Asmahan loses her father and moved to Egypt. She discovered music and her brothers through their mother Princess Alia who also play Oud.
Asmahan played in many musicals such as Gharam Wa Intiqam where she sang the tube 'Layali El Ounsi Fi Vienna "and" Intissar Al-Shabab' with his brother Farid El Atrach.
Fascinated by the European music Asmahan has amazed the Arabic public sensitive to European music by titles like 'Ya Touyour', 'Layta Lil Barraq' ...
She was married to her cousin Prince Hassan Al Atrash in 1933, and gave birth to a daughter 'Camellia'. 4 years later she was divorced and after she got married with the directors Ahmed Baderkhan and Ahmed Salem.
Killed at the age of 26 in car accident on the river Nile, Asmahan left a large repertoire that shows the originality of his character and his tone of voice exceptional.
Place a link to the page of Asmahan on your website or blog
Post to your blog
Permanent link
BB CODE
Official Website of Asmahan, photo of Asmahan, song de Asmahan, album of Asmahan 2023, music video of Asmahan , word of Asmahan , listen Asmahan mp3