Assala Nasri -
أصالة نصري
Biography of Assala Nasri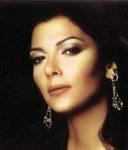 Assala Nasri, Syrian singer, was born May 15th, 1969 in Damas (Syria).
Assala Nasri began singing at an early age at school parties. Encouraged by her father, Assala published his first album ''Law Tiaarafou'' in 1993 which was good beginning.
Later on, albums succeeded: "Ghayar Aoui", "Alli gara", "Mouchtaka", "Albi Biyertahlak", "Ya Magnoun" "E3tif Habibi" and Assala Nasri became one of the most successful and biggest selling singers.
Armed with a strong but very sensitive voice, Assala sings about peace, love, friendship. Her albums are sold millions of copies all over the world.
Place a link to the page of Assala Nasri on your website or blog
Post to your blog
Permanent link
BB CODE
Official Website of Assala Nasri, photo of Assala Nasri, song de Assala Nasri, album of Assala Nasri 2021, music video of Assala Nasri , word of Assala Nasri , listen Assala Nasri mp3