Elias Karam -
إلياس كرم
Biography of Elias Karam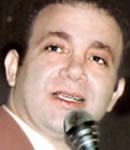 Elias Karam is a Syrian singer, composer and Oud player. He was born in 1960, in the northern Syrian town of Hassaké.
From a young age, Elias Karam performed the songs of Wadih Al-Safi, and when he was 16 he wrote his own first songs.
At the age of 20, Elias Karam was already considered a professional singer and performed for the Syrian radio.
He went to Lebanon and has performed in Jordan, Kuwait, the Gulf States, in Egypt (at the Cairo Opera), several European countries, Canada and the USA.
Place a link to the page of Elias Karam on your website or blog
Post to your blog
Permanent link
BB CODE
Official Website of Elias Karam, photo of Elias Karam, song de Elias Karam, album of Elias Karam 2021, music video of Elias Karam , word of Elias Karam , listen Elias Karam mp3