Farid El Atrache -
فريد الأطرش
Biography of Farid El Atrache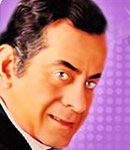 Farid El Atrache, Lebanese-born singer, composer and instrumentalist, was born to a Druze princely family.
Escaping the French occupation, Farid El Atrache and his family moved to Egypt and were later naturalized Egyptian.
Farid El Atrache showed interest in music at an early age. He sang in school parties and later entered the conservatory and took music lessons from the compose Riyad As-Sunbay.
Farid El Atrache began his singing career in the 1930's. He first worked for private Egyptian radio stations and sometimes for the national one as an Oud player which vocation he inherited from his mother.
Farid El Atrache has composed diverse songs and was one of the most esteemed composers of of twentieth century Arab music. As singer, Farid El Atrache had an astonishing fan base thanks to his unusually passionate voice. Farid El Atrache has wrote for numerous Arab singers.
Farid El Atrache is as perfect in mawal style as in joyful love songs. Some of his most famous songs include : "Hekayat Gharami", "Albi Wa Moftaho", "Gamil Gamal", "Nora Nora", "Zina", "Wayak".
Farid El Atrache is also one of the most important contributors to Egyptian film music. Alongside numerous stars of the big screen, such as Samia Jamal, Mona Abdelaziz, Hind Rostom and Tahia Kariouka, Farid El Atrache has proven he was an accomplished artist.
Farid El Atrache's sister was the singer Asmahan. Together, they starred in one movie in 1941. Asmahane died in a car accident occurred in mysterious circumstances.
Place a link to the page of Farid El Atrache on your website or blog
Post to your blog
Permanent link
BB CODE
Official Website of Farid El Atrache, photo of Farid El Atrache, song de Farid El Atrache, album of Farid El Atrache 2023, music video of Farid El Atrache , word of Farid El Atrache , listen Farid El Atrache mp3