Majd Al Kasem -
مجد القاسم
Biography of Majd Al Kasem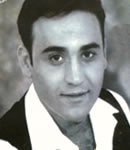 Majd Al Kasem is a Syrian singer.
He rose to fame with his song ' Ini Atanafasou 3ishqan' which was very popular.
Throughout his career, Majd Al Kasm released more than a dozen albums, among them is cited ' Salam Ya3am', ' Le3bitak', 'Amrak Habiby', ' Ayoub' and 'Esma3 baqa'. Recently in 2008 he launched his album titled ' Ya 3alamy'.
Place a link to the page of Majd Al Kasem on your website or blog
Post to your blog
Permanent link
BB CODE
Official Website of Majd Al Kasem, photo of Majd Al Kasem, song de Majd Al Kasem, album of Majd Al Kasem 2022, music video of Majd Al Kasem , word of Majd Al Kasem , listen Majd Al Kasem mp3