Nour Mhanna -
نور مهنا
Biography of Nour Mhanna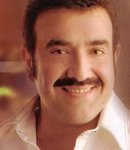 Nour Mhanna is a Syrian singer. Very young he started to recite the Koran, then flew to the music.
He launched his first album titled ' Wala Kan Albal ' who had received a great success in the Middle East, specially the first track '3alayhi Al Awaad'.
In July 2004 and during a flight which brought him and his group to California where they have a concert in the 'Sycuan Resort and Casino', they were stopped because of suspicions that they were preparing a future terrorist attack.
Place a link to the page of Nour Mhanna on your website or blog
Post to your blog
Permanent link
BB CODE
Official Website of Nour Mhanna, photo of Nour Mhanna, song de Nour Mhanna, album of Nour Mhanna 2021, music video of Nour Mhanna , word of Nour Mhanna , listen Nour Mhanna mp3