Wadih Mrad -
وديع مراد
Biography of Wadih Mrad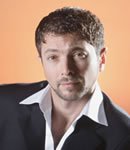 Garo Mrad Savarian better known by her stage name Wadih Mrad is a Syrian singer. He was born in Qamishli, north Sirya 15th June, 1974. He Belonged to the Armenian community.
Wadih Mrad began his life of art in the age of five.
In 1992, he joined the army and lead to his military service for two years and a half. During this period he discovered the orchestra oriental musical instruments, and began exercising the assets of Arab music.
One year later, he founded his own eastern orchestra who was consisted of 14 musical specialist.
In 1998, Wadih Mrad moved to Beirut, and signed a contract with a Lebanese radio station and agrees to manage its work. He started singing in a cabaret night under the name of Garo.
4 months later he ended the contract.
Later, Wadih Mrad signed a contract with Rotana Company for five years. However, he dissolved friendly the contract after one CD titled ' 3asheq Majnoun' (Crazy lover).
Place a link to the page of Wadih Mrad on your website or blog
Post to your blog
Permanent link
BB CODE
Official Website of Wadih Mrad, photo of Wadih Mrad, song de Wadih Mrad, album of Wadih Mrad 2023, music video of Wadih Mrad , word of Wadih Mrad , listen Wadih Mrad mp3