Amani Souissi -
أماني السويسي
Biography of Amani Souissi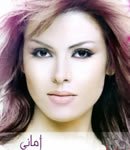 Amani Souissi, Tunisian young singer.
Amani Souissi made her first appearance to public while participating in Star Academy Lebanon in 2005. She did not waste time to make her talent evident and conquer a large audience with her strong and beautiful voice always giving much more from prime to prime.
Thus, with Saudi Hisham Abdel Rahman on her side, Amani Souissi got to the finals without ever a nomination by the academy's instructors.
Even the victory of the finalist Hisham Abdulrahman judged other way unfair, Amani Souissi believed Star Academy gave her recognition and the great success is about to be met. Ideed, she was signed with a well-known music company and recorded her own album later on.
Place a link to the page of Amani Souissi on your website or blog
Post to your blog
Permanent link
BB CODE
Official Website of Amani Souissi, photo of Amani Souissi, song de Amani Souissi, album of Amani Souissi 2022, music video of Amani Souissi , word of Amani Souissi , listen Amani Souissi mp3