Amina Fakhet -
أمينة فاخت
Biography of Amina Fakhet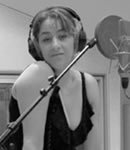 Amina Fakhet is a Tunisian female performer. She was born in Brado, May 1968.
Her father was a Tunisian electricity and gas official, she lives in a popular district and spent a difficult childhood. In the age of 14, Amina lose her father.
In 1983, she participated in the TV talent show ' Art and talents' and sing ' Hekayty Ma'a Zaman' (My history with time) of Warda. The tears in her eyes Amina was unable to continue his presentation, but the jury recognized her talent.
On stage Amina Fakhet can be unleashed and does not hold his emotions. She travels to France in the age of 16 in hope to meet the recording industry director and launch her career, but without any result.
In 1991, she left in Cairo and released her first album after 3, which was composed by Ammar Chi'i, Baligh Hamdi ...and other great composer.
Amina Fakhet had known the glory in her country Tunisia after 12 years of struggling to impose its original style, but whenever she steps into the stage at the International Carthage Festival the public never tires of return.
Amina has released many albums like 'Anta mouradi', 'Ilah Al Koun', 'Mahasaltech', 'Wala marra' ... which were very popular.
Place a link to the page of Amina Fakhet on your website or blog
Post to your blog
Permanent link
BB CODE
Official Website of Amina Fakhet, photo of Amina Fakhet, song de Amina Fakhet, album of Amina Fakhet 2021, music video of Amina Fakhet , word of Amina Fakhet , listen Amina Fakhet mp3