Hedi Jouini -
الهادي الجويني
Biography of Hedi Jouini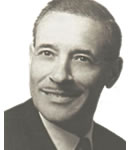 Mohamed Hedi Ben Abdessalem Ben Ahmed Ben Hassine better known by hiss stage name Hédi Jouni is a singer, composer and oudiste Tunisian,. He was born in Bab Jedid in Tunis the first in November, 1909.
Very young, he developed his interest in music, he sang hymns in religious ceremonies circumcision .
Hédi Jouni has being forced to leave his studies to integrate a local band 'Hsinia'.
At age of16, Hédi Joini start singing in small local concerts as a mandolin player, then he performs with the troupe Arruqi who sits in Bab Souika before joining the artists poets and lyricists coffee Taht Essour.
Hédi Jouini sang and composed over 1070 songs from different styles: muwashshahs, dawrs, folklore Tunisian, patriotic songs and 56 operettas. His best known songs include "Lamouni Li Gharou Minni", "Kholkhal Bou Ratlin", "Ah Ya Lmahsouna", "Samra Ya Samra" and "That El Yasmina".
In the date of the inauguration of radio Tunis, Jouini will provide a weekly live concert.
In 1966, Hédi Jouini was decorated of ' officer of the Order of the Republic' by Tunisian President Habib Bourguiba, then in 1982 for all his work and for his contribution to enriching the cultural heritage of Tunisia.
Hédi Jouini died in November 30, 1990.
Place a link to the page of Hedi Jouini on your website or blog
Post to your blog
Permanent link
BB CODE
Official Website of Hedi Jouini, photo of Hedi Jouini, song de Hedi Jouini, album of Hedi Jouini 2020, music video of Hedi Jouini , word of Hedi Jouini , listen Hedi Jouini mp3