Latifa Tounsia -
لطيفة التونسية
Biography of Latifa Tounsia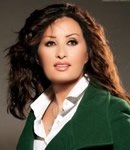 Latifa Tounsia, born Latifa Bint Alayah Al Arfaoui on the 14th of February 1961 in Manouba, Tunisia, is an Arab pop music singer.
Latifa began her career at a very young age. In 1983, Latifa have been in Egypt met composer Baleegh Hamdi who encouraged her to move to Egypt to develop her career.
However Latifa couldn't go back to Egypt and preferred preparing Dutch literature for a year and a half and then joined the Arab Academy of Music in Egypt and got a bachelor degree a few years later. It was the prominent composer Mohammed Abdel Wahab while he heard singing on the radio. Latifa Tounsia then worked with Ammar Al Sherai'ei and poet Abdulwahab Muhammed.
"Akthar Min Roohi" was released in 1986. The album were very successful across Arab-speaking countries. The single "Ew'ah Tegheer" for which she has shot a music video was extremely popular that Latifa bought half the shares of her producer's company and studio, La Reine by the incoming of the album and became thus also a producer.
Following albums were "Hobbak Hadi" ( 1993), "Al Ghinwa" (1997) and new-styled albums marked especially by "Qasa'ed Fos'ha". "Taloomoni Al Donya" of lyrics written by the poet Nizar Qabbani, "Inchallah" and others.
Place a link to the page of Latifa Tounsia on your website or blog
Post to your blog
Permanent link
BB CODE
Official Website of Latifa Tounsia, photo of Latifa Tounsia, song de Latifa Tounsia, album of Latifa Tounsia 2022, music video of Latifa Tounsia , word of Latifa Tounsia , listen Latifa Tounsia mp3