Lotfi Bouchnak -
لطفي بوشناق
Biography of Lotfi Bouchnak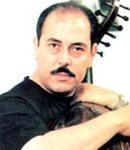 Lotfi Bouchnak is a famous Tunisian singer, oud player and composer born January 18, 1952 in Tunis (Tunisia).
Attracted by music since his tender childhood and joined Algerian "Jeunesse Musicale" where he did his first steps as singer supervised by Ali Sriti and Mohamed Azouze.
Lotfi Bouchnak launched his singing career at the age of 27 while Ahmed Sidki proposed him a song he composed which earned Lotfi Bouchnak audiences recognition. He later worked with famous Egyptian composer such as Sayed Mekawi, Fathallah Ahmed and Anouar Brahem.
Lotfi Bouchnak started composing in the mid-1980s. His popularity grew fast thanks to his strong and special voice and especially his ability to improvise which earned a title of Arab Music ambassador.
Lotfi Bouchank is also U.N Ambassador for Peace since July 12, 2004 and Ambassador of oriental song Festival of Sarajevo since March 2004.
Accomplished artist, audacious interpreter of Tunisian malouf, excellent oud player, Lotfi Bouchnak is the ideal representator of Arab Traditional Repertoire.
Lotfi Bouchnak was named the best Arab singer of the year 1997 in Washington.
Place a link to the page of Lotfi Bouchnak on your website or blog
Post to your blog
Permanent link
BB CODE
Official Website of Lotfi Bouchnak, photo of Lotfi Bouchnak, song de Lotfi Bouchnak, album of Lotfi Bouchnak 2023, music video of Lotfi Bouchnak , word of Lotfi Bouchnak , listen Lotfi Bouchnak mp3