Saber Rebai -
صابر الرباعي
Biography of Saber Rebai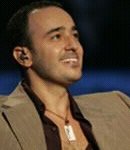 Saber Rebai, Tunisian-born singer and composer, Lebanon-based artist, born in Sfaqs (Tunisia).
Saber Rebai started his singing career in late 1990s. He broke through with a song "Roht Wi Guit" which video was broadcasted across Arab-speaking countries channels and topped the charts of many radio stations.
Saber Rebai subsequent success was "Sidi Mansour", a revival of the Tunisian folk song. Another Tunisia-inspired song was "Barcha Barcha" including music composed by Saber.
Saber Rebai went in tours across Europe, USA, Australia and also performed in Palestine and South Korea. He gave shows in the most prestigious stage of the world including the Olympia in Paris, Carthage and Cairo.
Saber Rebai is now living in Lebanon. His brother Tarek Rebaï is the EO of Rotana Tunisian bureau.
Place a link to the page of Saber Rebai on your website or blog
Post to your blog
Permanent link
BB CODE
Official Website of Saber Rebai, photo of Saber Rebai, song de Saber Rebai, album of Saber Rebai 2022, music video of Saber Rebai , word of Saber Rebai , listen Saber Rebai mp3