Mohamed El Mazem -
محمد المازم
Biography of Mohamed El Mazem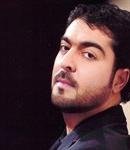 Mohamed El Mazem, United Arab Emirates-born singer.
Mohamed El Mazem started singing in the late 1980s. He first appeared to public while participating in Festivals but before that he sang in celebrations and private parties and earned local recognition. Trusting his talent, Mohamed El Mazem went on to build a very successful career on a heady blend of enthusiasm and endurance.
Mohamed El Mazem's first break was "Ahebak". The single that he shot to increase its popularity was a big hit and conquered audiences with a very joyful style. Mohamed El Mazem adopted this style for many of his further works that also met the same success like "Allah Ala Talah", "Tikram Ainak" for the most popular.
Mohamed El Mazem tried a melancholic syle in "Youm Miladi Ana". The success the title got proved than Mohamed El Mazem was an accomplished artist.
Very recently, Mohamed El Mazem has announced he will give up sentimental style and only give his voice to religious songs. He then released his new style album: ''Ya Habibi Ya Mohamed'' in 2008.
Concerning the reasons of his decision, Mohamed El Mazem told Medias that "art aims mainly to deliver a message of love and peace and diffuse high values and unfortunately current works are far from that mission".
Comments on Mohamed El Mazem
Place a link to the page of Mohamed El Mazem on your website or blog
Post to your blog
Permanent link
BB CODE
Official Website of Mohamed El Mazem, photo of Mohamed El Mazem, song de Mohamed El Mazem, album of Mohamed El Mazem 2023, music video of Mohamed El Mazem , word of Mohamed El Mazem , listen Mohamed El Mazem mp3